PCA Advanced Voluntary Trainings
Support & Planning Coach Certificate Program
Between April and June of 2023, the Training Fund will begin its new Support & Planning Coach (SPC) Certficate Program in partnership with Boston University's School of Social Work (CADER): Center for Aging & Disability Education & Research and the State of CT's Department of Social Services (DSS).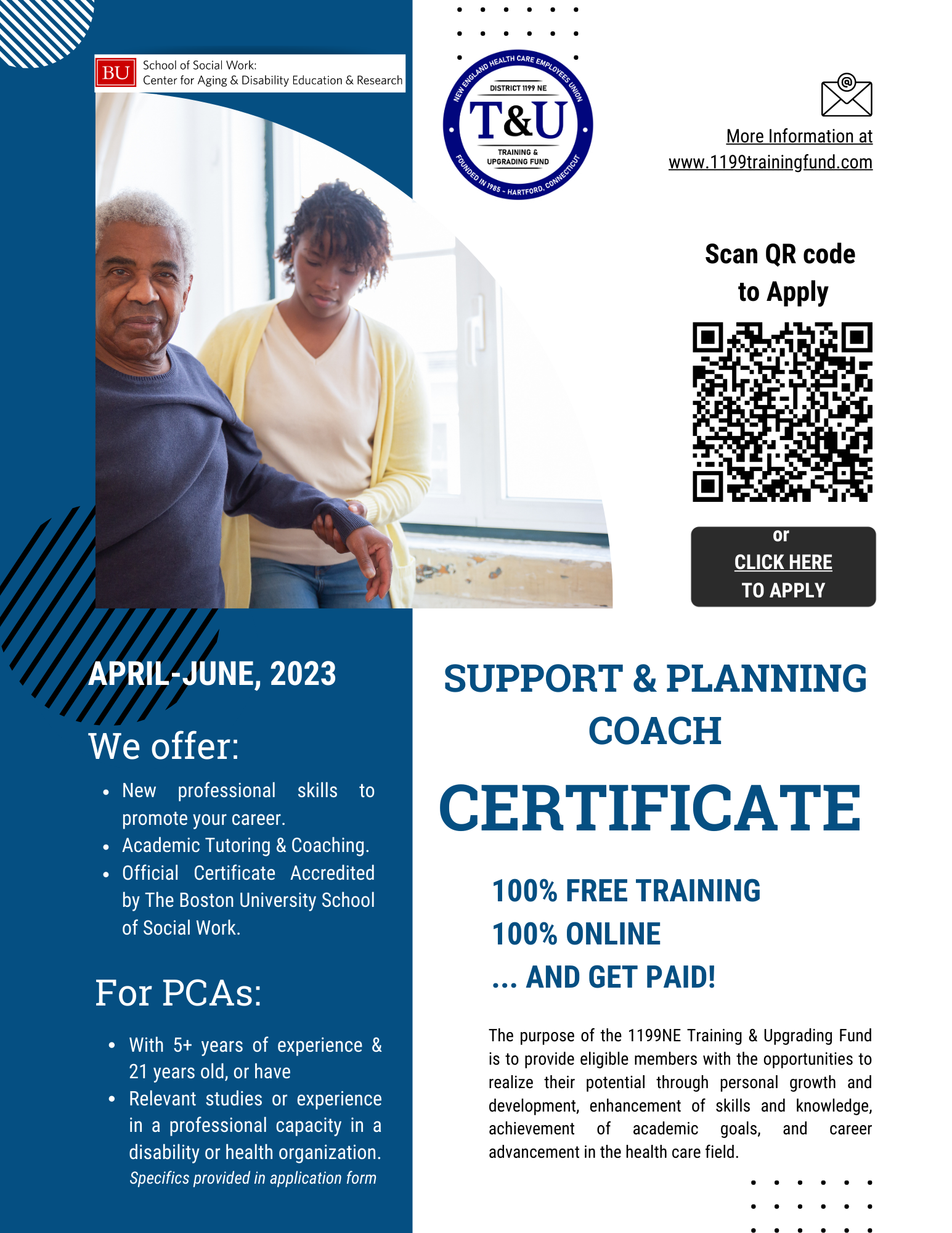 What is the Certificate Program?
The intention of this Certificate Program is to provide current PCAs (those who are paid through Allied or Sunset Shores) with the qualifications to take on a new role as a Support & Planning Coach.
A Support & Planning Coach in the State of Connecticut works alongside consumer-employers in a person-centered manner to do things such as: budget and secure services within the consumer's Plan of Care; assist with managing PCA staff; maintaining timesheets via Electronic Visit Verification (EVV) via Sandata; among many other things. The role will still be paid via Allied or Sunset Shores and related to a conusmer-employer's need. The wages associated with the SPC role are higher than that of the base wages for a PCA, so this is another benefit to participating in the program.
Please note, you can work as a PCA and a SPC but cannot work for the same consumer-employer in both roles. You can take on other consumers as a SPC in addition to your PCA if you still want to work as a PCA.
Why is it beneficial to apply?
This course will be provided in a virtual, online setting via BU's Blackboard Site. The Training Fund will provide regular text message, phone and/or email check-ins and one-on-one tutoring via virtual meetings, if needed. There is a potential for other supports, such as peer study groups, as well.
It will be free to actively working PCAs and will offer a payment in the form of a stipend upon completion of the program.
In order to qualify or this program you must meet the following requirements:
Be at least 21 years old
Have five years of experience as a Personal Care Attendant (PCA), or experience in a professional capacity in a disability or health organization. *College training may be substituted for the General Experience on the basis of fifteen (15) semester hours equaling one half (1/2) of a year of experience to a maximum of four (4) years for a Bachelor's degree. A Master's degree in public health, social work, or rehabilitation may be subsituted for General Experience.
**You must have access to a desktop computer, laptop or tablet to complete this online certificate program.**